Main Content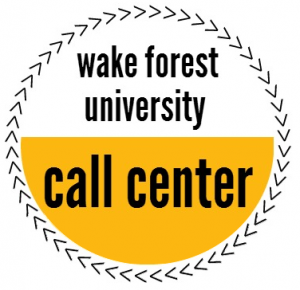 The Wake Forest Fund Call Center reaches out to alumni and parents each semester to help them stay involved in annual giving at Wake Forest University. The Call Center is staffed entirely by Wake Forest students who provide a first-hand perspective on life here on campus. No one can explain the importance of the Wake Forest Fund better than the students it impacts.
When a student contacts you from the Call Center, let them know what Wake Forest was like when you were here, find out if your favorite professor is still making that corny joke every semester, learn about exciting new changes on campus, and most importantly, say YES! Support WFU by making a gift to the Wake Forest Fund. Your gift will help us build alumni participation and support the greatest needs of our students and faculty.
We strive to create and enhance positive relationships with each alumnus, parent, and friend of the University. Our callers are trained to ethically solicit gifts for the University, to designate those gifts as requested, and to answer any questions or concerns you may have.
---
If would like more information, please contact Rebecca Colwell, Assistant Director of the Wake Forest Fund Call Center at colwelr@nullwfu.edu
Student Employment
Each semester, the Wake Forest Fund Call Center hires between 20-30 students. These confident and dedicated Deacons are some of the highest-paid student employees on campus. Pay starts at $8.25 an hour, with many opportunities for bonuses and incentives.
These students also benefit by building their own schedule, working on campus, and being free on all University breaks. Callers are required to work 2 shifts each week for the duration of the semester.
Being a Wake Forest Fund Student Caller is a coveted position that indicates the value you place on your Wake Forest education. If you are interested in becoming a part of this team, please complete the application below and email a copy along with your resume to Rebecca Colwell at colwelr@nullwfu.edu
The Wake Forest Fund Call Center is an outbound call center. If you are trying to reach University Advancement, please use the Contact Us tab or search the Staff List for the party you are trying to reach.
MISSED OUR CALL?